Today is Zero Discrimination Day!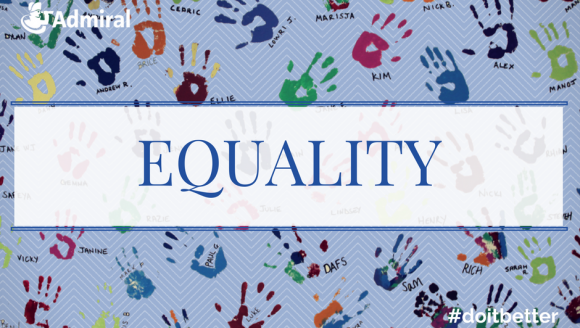 As today is international Zero Discrimination Day we wanted to share with you a little bit more about our "Equality" pillar.
As you may or may not know, here at Admiral we operate under the Four Pillars to ensure we are consistently doing the best we can for our employees.
Our Four Pillars are: Communication, Equality, Reward & Recognition, and Fun!
For today we will focus on "Equality" to showcase what we do to ensure everybody is treated fairly at work.
We are committed to having a happy and productive atmosphere with employees that truly represent our communities, so we have a specific Equality, Diversity and Dignity at Work policy, which underpins our Equality pillar, to ensure each and every employee is treated equally and fairly, regardless of their background.
We want to ensure our environment is free from harassment, victimisation and bullying, and where all opportunities are available on an open and fair basis. Our people are our most important asset and we respect, value and celebrate the individuality and diversity that everyone brings and actively encourage applications from anyone who has the right skills for a particular role.
At Admiral nobody has a private office, not even our CEO. Instead, we have open plan offices where everyone is treated the same. There are no company cars and no special treatment for senior managers. We are very proud of our flat hierarchy and the opportunities this creates for everybody within our organization.
In terms of gender, we currently have slightly more female than male employees across the Group and four out of ten board members are women, meaning we are third out of only 41 companies in the FTSE 100 with 25% or better female representation on company boards.
Our headquarters in Cardiff also include a multi-denominational prayer room, which is particularly helpful to staff wanting to partake in daily prayer.
We do all of these things to ensure our staff members are happy, because we believe firmly that people who like what they do, do it better!