Manchester graduate Alberto: Admiral rewards hard work and results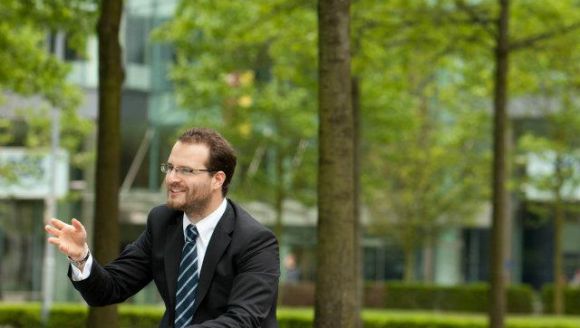 A Manchester Business School MBA graduate who rose rapidly through the ranks at Admiral has said hard work and delivering results ensured his path to success in the business.
Alberto G Schiavon joined Admiral as an International Pricing Manager in May 2012 after completing an MBA at Manchester Business School.
The 30-year-old from Venice is now Head of Renewals and this year played a key role in the development of the company's Loans product which is now in its second phase.
He said: "I am an example that hard work and delivering results can bring you the opportunity to grow rapidly within the business.
"I have worked in other companies where promotion has not been possible for staff who have been with the firm for less than two years.
"That doesn't happen at Admiral whatever your level.
"If you are at Customer Care Representative (CCR) level and you portray fantastic skills, you could get promoted to senior or team manager level within 12 months. This is more an exception, rather than the norm. But it still something that has happened within Admiral."
Alberto said his introduction to Admiral in International Pricing involved developing an understanding of where the company's competitive advantage came from.
His role involved work in France and the US.
He added: "Later I helped with the Loans project which was launched in the second quarter of 2015.
"In May I moved to Renewals which was an exciting challenge.
"We are now in a Renewals cycle where prices are going up.
"It makes our life a bit more difficult but we are working very hard to make sure our guys have the right tools to save the customer and I want to make sure the customer appreciates the value of our products and stay with us."
Alberto said listening and leadership are among the essential skills to effectively carry out his role.
He said: "You have to make decisions on a day to day basis and some of which are not always self evident and sometimes you have to balance analysis with intuition.
"The ability to test and experience and look for new things is essential.
"I think it is important to make sure the best people on your team get rewarded correctly.
"Rewards can be moral as well as financial and it is important to gratify the staff that go the extra mile for the customer."