Wow! 1,000 Easter Eggs Raised for Charity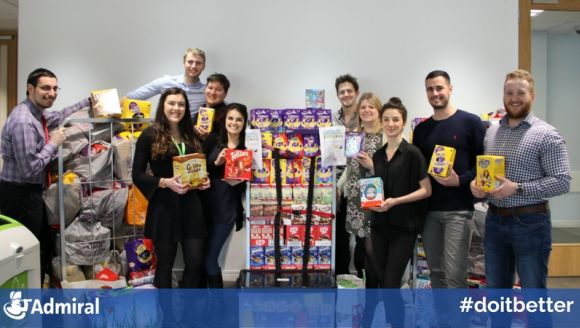 Ever wondered what 1,000 Easter eggs look like? Well, our graduates set themselves a challenge to collect 100 Easter eggs this Easter to donate to charity. They worked extremely hard and exceeded their target and raised over 1,000 Easter eggs!
The team of 17 graduates, some of whom only joined Admiral this February, made their way round all the departments in Admiral. They were overwhelmed by the generosity of staff across Cardiff, Newport and Swansea and are extremely grateful for everyone's contribution.
The eggs will be enjoyed by children at the Royal Family Kids, a one week summer camp experience specifically for at risk children at risk ages 7-11. RFKids UK create life changing moments for these campers. The eggs will also be donated to Llamau UK a very worthy charity supporting the young homeless in Wales.
With so many eggs, now even more organisations will be receiving the donations, including Vision 21, who offer real work experience and employment routes for people with learning needs.
The team of graduates span many departments including Confused.com, New Products and Sharing Economy, Loans, Finance and Telematics, just to name a few. The whole team promoted the appeal within their own teams and throughout the business. They also donated eggs themselves.
Alice, who is currently on her first placement in the Management Information Team, headed up 'Guess the number of eggs in a jar'. This tasty looking jar of chocolate eggs was full to the brim of eggs of different sizes. At £1 a go and 574 guesses ranging from 50 to 780 they raised lots of money to buy Easter eggs.
And if you're curious, the correct answer was 244 eggs in the jar!
A big thank you goes out to all the staff members who donated to this worthy cause.
If you're interested in joining this great group of people, why not check out our vacancies.