Today is World Health Day!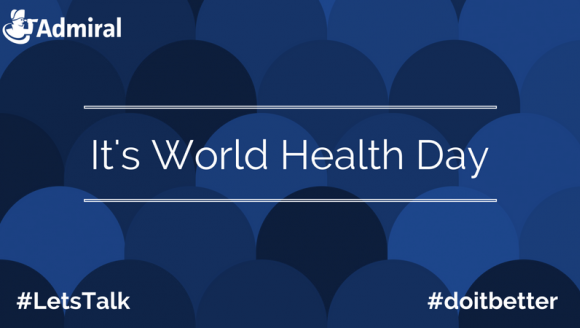 World Health Day is celebrated on the 7th April every year to mark the anniversary of the founding of the World Health Organization (WHO).
This year's World Health Day is focussed around depression, which is the leading cause of ill health and disability worldwide. Unfortunately, many people don't receive the treatment they need due to a lack of support for mental health issues, coupled with a fear of stigma, which prevents those facing depression from seeking out help.
At Admiral we're lucky enough to have a Ministry of Health (MOH), made up of enthusiastic members, who organize a wide variety of health related talks and events for all our staff members, in addition to doing their daily jobs.
The MOH has placed more emphasis on mental health issues over the last few years with various "Healthy Heads" campaigns. This year we've observed Time to Talk Day and launched Care First's "In your pocket" app to our employees. This app allows our staff members to access the Care First Employee Assistance Programme (EAP). Admiral staff members already had access to the EAP, but can now access it via the app, which will make it easier for everyone to use this great resource.
The EAP includes a health and nutrition portal, as well as 27/7 direct support to Care First's BACP accredited councillors. You can speak to them on the phone, arrange a face-to-face meeting, or video chat with them. There is also a wealth of information and advice regarding a whole host of issues that we all face throughout our lives.
Depression is common and can affect anyone, so it is important to talk about it and reduce the stigma surrounding mental illness. We would like to encourage our staff members to come and see someone in People Services (HR) or to use the Employee Assistance Programme, if they, or someone they know, needs any kind of support or guidance.
#LetsTalk #depression #mentalhealth