Dementia Friends' visit to Admiral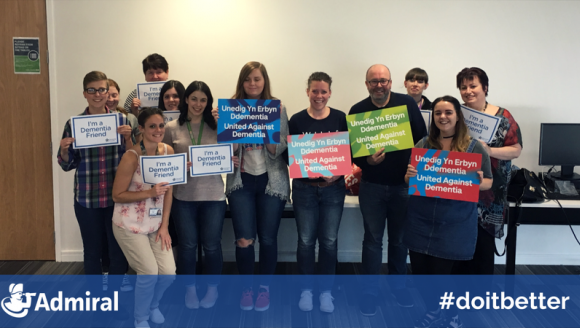 Throughout May representatives from Dementia Friends (part of the Alzheimer's Society) have been visiting Admiral staff members in Newport, Cardiff and Swansea in order to raise awareness, help us understand the condition better, and to offer support to anyone who may need it.
These informative sessions were organized by our Ministry of Health (MOH) and staff members have found them both valuable and interesting. The sessions will continue to run until the end of May.
Dementia is set to be the 21st century's biggest killer so it's very important for us to understand the condition and help find a cure, as well as to support those currently living with it.
Some of the things we learnt at the sessions are:
Dementia is not a natural part of the ageing process
Dementia is caused by diseases of the brain (Alzheimer's being the most common)
Dementia is not just about losing your memory
It's possible to live well with dementia
There is more to the person that the dementia
Dementia can affect memory, actions and moods, but with a helping hand people living with dementia can still enjoy their hobbies, have good relationships with partners and friends and live independently for longer.
The Dementia Friends initiative wants to make sure more people around the country understand dementia, so that they can recognize it and offer support to people in their community. Every action counts!
If you'd like to learn more or get involved, visit either the Dementia Friends or Alzheimer's Society website and sign up to become a Dementia Friend. You can also help by donating or campaigning for change.
Admiral staff members can still sign up to the Dementia Sessions by emailing the Ministry of Health, as the sessions will be running till the end of the month. If you're not yet an Admiral staff member, why not check out our vacancies and see if anything takes your fancy?