The people behind the promotions - Gwennan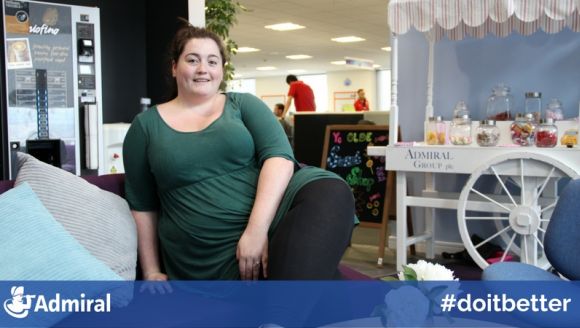 Gwen started her career at Admiral as a Call Centre Representative two years ago, and worked to gain extra responsibilities and duties on a different team for 12 months. Since then, she has been promoted to Senior on a brand new team in the Inbound Sales department.
"Being a Senior is challenging especially on a new team as I'm trying to learn the job whilst teaching the new starters, which is also quite nice as were all learning together."
Having asked Gwen what she loves about her new role and working at Admiral, she said "The people, the managers and the department. No one thinks they're any better than you. The job itself is very rewarding, seeing people grow and become good at they're job."
"The work/life balance is great at Admiral, you're encouraged to work hard but also encouraged to enjoy yourself - Admiral are very good to their staff. I love the atmosphere here, the buzz on floor, everyone is happy to engage with you."
"If you're thinking of applying to join Admiral, make sure you can talk to people confidently, put yourself across well and be conversational. For those wanting to get on and make a career here, make sure you're available to take calls, ensure your stats are great, listen to your senior and team manager and put yourself forward – ask questions. This will all ensure your name gets around and will put you in a good position for a promotion."
Gwen also shared with us some of the skills required to become a senior; "Patience, empathy, being knowledgeable in your area, good time keeping, being able to manage your own diary effectively, good people skills and being able to relate to people are some good traits to have as a senior."
Admiral believes people who like what they do, do it better. As part of the culture, showing reward and recognition is a big part of what makes them successful.
If you would like to find out more about the employee perks at Admiral, including the free gym, casual dress code and free share scheme, click here.
Are you looking to earn great incentives and climb the career ladder? Click here for the latest jobs in New Business Sales.