The people behind the promotions - Matthew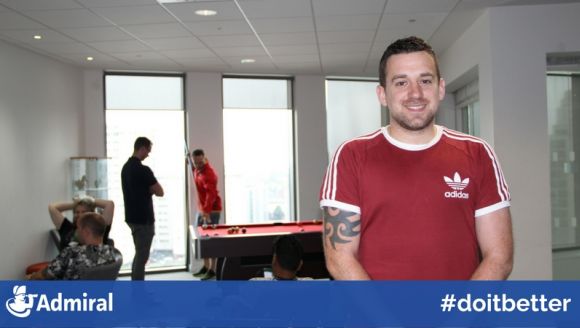 Matthew, who joined Admiral four years ago, has gathered a fair bit of experience during his time here. Starting his career in Inbound Sales, moving on to Household New Business and then taking on a completely new challenge to work on one of the biggest projects Admiral has ever undertaken are just a few achievements under his belt so far. This project is known as the BOLT project and it transformed the systems we use to operate day in, day out.
''BOLT gave me huge exposure to the business; it was an 18-month project where I helped release the new functioning system, Guidewire, to the Household team. I even had a one to one meeting with the CEO, David Stevens. I was terrified, but there was no need to be, it went so well!''
Matthew has recently been promoted to a senior position within the Inbound Sales team. He is in his third week of managing a new team of people in the business.
''It's definitely challenging, my team have only just completed their two week induction so it's a very busy time as they have a lot of questions. I believe learning on the job is one of the best ways to get to grips with the role. I am there on hand to support them whenever they need it.''
We were keen to find out what Matthew enjoys most about being in Admiral and if there is any advice he can offer others thinking of applying.
''I love the people here, I have worked in lots of different environments but I have never felt the strong sense of togetherness as much as I do here.
''If I was to offer any advice to anyone looking to be successful, I'd say, be open to learning as much as you can. Don't worry if you don't have any sales experience, some of our best and most successful people joined us with no experience. Success will come with being open minded and being prepared to learn.''
Matthew has no plans of losing the momentum in his career progression; ''I see myself progressing further. My colleagues and friends that started the same time as me are now going in to Team Manger and Operations roles here in Cardiff and even relocating to our Halifax office in Canada. I've got lots to look forward to!''
At Admiral, we believe people who like what they do, do it better. As part of the culture, showing reward and recognition is a big part of what makes them successful.
If you would like to find out more about the employee perks at Admiral, including the free gym, casual dress code and free share scheme, click here.
Are you looking to earn great incentives and climb the career ladder? Click here for the latest jobs in New Business Sales.