The people behind the promotions - Sophie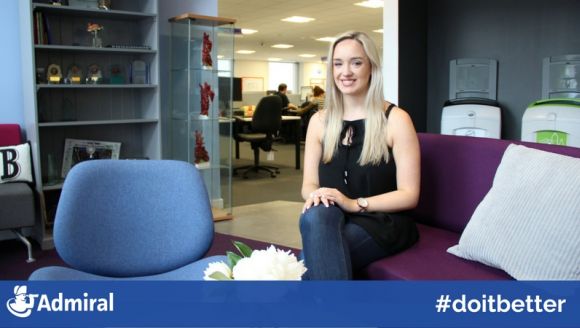 Sophie started her career at Admiral two years ago and has recently been promoted to Senior, she told us a little more about her achievements at Admiral.
"I started at Admiral as a Contact Centre Representative and within the first six months was moved to being a 'Task Agent' which involved training new staff. Recently there was a restructure of the Inbound Sales department which saw me being promoted to Senior a month ago."
"It's a tough job as a Senior, it can be stressful, but that's what I love about it. I like helping people and at the same time, I'm climbing the career ladder."
"I was first attracted to the Inbound Sales department as I was money motivated by the shares Admiral offers all staff, as well as the potential incentive available. More recently I thought about my long term career aspirations and set myself goals; in two years I wanted to become a Senior (which I have achieved!) and in five years I want to become a Team Manager. There are so many opportunities here I don't think I'll ever leave!"
We asked Sophie what new candidates can expect from the application process and any advice she has.
"When I first applied to join Admiral, I didn't get through and I realise now that my application form was weak. On the second occasion I applied for the job I made sure I did some research and mentioned some facts about Admiral in my interview. I also made sure to expand on my answers and show off my personality more. This obviously all paid off as I got the job!"
"My advice to new candidates would be to come in and hit ground running, be engaged, get involved in everything, source new ideas and try and gain a broader understanding how the function and business works. We want someone who can come in open-minded, engage people and ultimately learn the job."
Admiral believes people who like what they do, do it better. As part of the culture, showing reward and recognition is a big part of what makes them successful.
If you would like to find out more about the employee perks at Admiral, including the free gym, casual dress code and free share scheme, click here.
Are you looking to earn great incentives and climb the career ladder? Click here for the latest jobs in New Business Sales.