The people behind the promotions - Hayden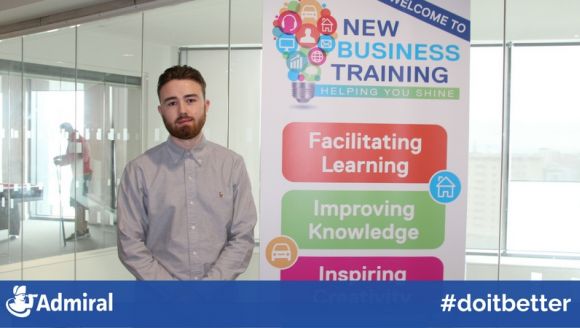 ''I started with Admiral straight after college as a Call Centre Representative and immediately liked the way the company treated its employees.'' Said Hayden, one of Admiral's newly appointed Team Managers in Inbound Sales, Cardiff.
Hayden has achieved lot in his time here so we thought this would be a great chance to find out from him what the journey's been like.
''Within three and a half years, I have progressed from being a Call Centre Representative to Senior, and more recently I have been promoted to Team Manager.
''During my time as a Senior, my role involved an element of phone handling and helping my Team Manager run the team. The Team Manager role is quite different in that I am actually responsible for the performance, motivation and engagement of my team."
''The most challenging aspect of my role is definitely time management. There are lots of things to juggle, from the day to day running of the team to people management."
''I really enjoy my job, I love the job satisfaction and its rewarding working with people and seeing them grow and develop."
''Admiral is a very attractive employer, the benefits and incentives here are amazing. People are treated as an individual and there is plenty of room for progression if you're interested.''
What's Hayden advice for anyone looking to make their way up the career ladder?
''If you're keen on joining Admiral and making a career here, it's important to be positive, open minded and accept that you'll receive lots of feedback. Be receptive to it and see it as a good thing that the company wants to train and develop you. As you'll be working with a variety of different people, try and take as many good practices from them as you can. Get involved with different things, get out there and raise your profile!''
Admiral believes people who like what they do, do it better. As part of the culture, showing reward and recognition is a big part of what makes them successful.
If you would like to find out more about the employee perks at Admiral, including the free gym, casual dress code and free share scheme, click here.
Are you looking to earn great incentives and climb the career ladder? Click here for the latest jobs in New Business Sales.