Admiral staff down office tools and make a transformation to Cardiff West Community High School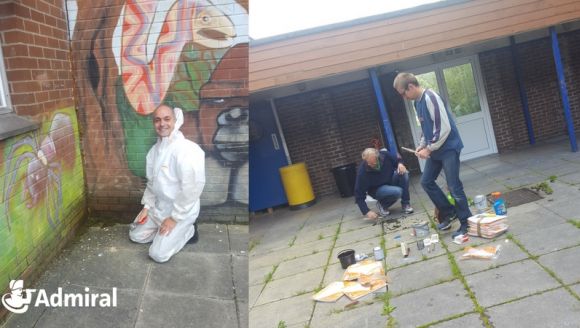 A group of Admiral Employee's recently attended Cardiff West Community High School to help transform the new school entrance for pupils. The Head Teacher from Cardiff West Community High School contacted Admiral to ask for some support as the entrance was a little tired and needed some TLC.
The group included two Senior Managers, Ceri Assiratti, Head of People Services and Peter Marissen, Head of Pricing. The group of Admiral staff downed office tools, exchanged them for gardening tools and got to work, weeding the courtyard, painting old guttering, painting over graffiti and sweeping up the mess. After a few hours of great team work the area had been transformed!
''It was great to get out of the office and do something positive for the local community – I'm not sure the school would ever hire me to paint anything else though!'' Said Andrew Viazzani, Head of Recruitment and Training at Admiral.
Gillian Lee, The deputy Head Teacher expressed her thanks to the team. ''I just wanted to express my gratitude and thanks for all the hard work that Team Admiral put in to helping to make our courtyard look so much better. Please pass on my thanks to your team.''
Well done to everyone involved!