Training Team Away Day – Krav Maga!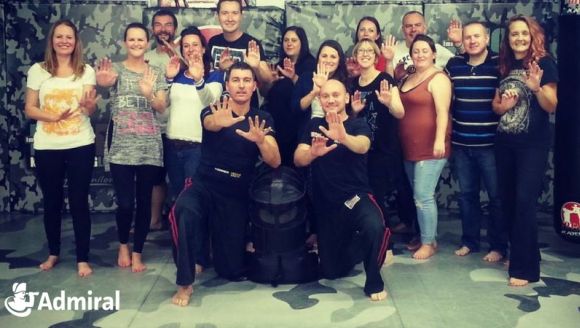 Our philosophy at Admiral Group is that people who like what they do, do it better so we go out of our way to ensure coming to work here is enjoyable. Just one way we do this is through team days. We believe rewarding our teams with an activity of their choice is just one small gesture to show the appreciation for their hard work throughout the year.
Admiral Academy support the training and development needs for over 9,000 employees across the business in the UK and overseas. For their afternoon out, they decided to try out something new and instead of being the trainer, become the trainee. They took on Krav Maga, a form of self defence and physical training.
Heidi, Academy Trainer told us how the event went. ''Admiral Academy have always been the pioneers for new methods of training and takes every opportunity they can to learn new skills. This year we used our Summer Away Day to great effect... Krav Maga!''
Krav Maga was first developed by the Israeli army in the 1940s, based on the use of reflexive responses to threatening situations.
''It's a great way to de-stress and bond with your team! We spent the morning with Ceri & Gerard at Total Self Protection, who took us through the basics of self-defence and gave us the opportunity to test out our newfound skills on them. After a gruelling morning, we all celebrated our newfound passion for self-defence with a large steak/mushroom stroganoff at the Grill House in Waunarlwydd. Not only a new string to the Academy bow but a lot of fun in the process, a great day that anyone, no matter what their ability level, can join in!'' Said Heidi.
According to the Great Place to Work Institute, Admiral's simple but strong philosophy has helped it become one of the best employers in both the UK and Europe.
Luke, Recruitment Team Manager said ''We do all we can for our employees to reflect our four pillars that uphold the culture at Admiral. These are communication, equality, reward and recognition and fun.
''Team building days form an important part of our culture. It's a good exercise to get together, out of the work environment, with your colleagues and work together on something different.
The days bring people together and really help build motivation and communication. Further to this, they often create long lasting memories and the odd laugh!''