Breast Cancer Awareness month at Admiral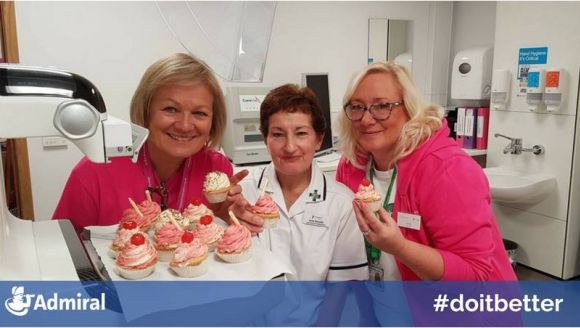 Our dedicated health and wellbeing programme called 'Ministry of Health' (MOH), run voluntarily run by staff representatives from across the business, offers staff a wide array of initiatives and services. As well as providing daily fresh fruit, local gym passes and head massages, this month the MOH continue to work closely with Tenovus, St Joseph's Hospital in Newport and Public Health Wales to raise awareness of the various types of cancer as well as to provide support and advice to staff on how to maintain a healthy lifestyle.
With October being Cancer Awareness Month, Tenovus will be visiting all three Admiral offices in Cardiff, Newport and Swansea to offer staff free personal health checks, male focused workshops focusing on the 3 key male cancers (penile, prostrate and testicular) and they will also be running further smoking cessation workshops. Staff will also be able to get their hands on lots of free information to download electronically.
Our MOH has worked closely with St Joseph's Hospital since 2015 who have previously run Breast Cancer Awareness Sessions and Breast Check Clinics for staff at the office.
Last week we were invited to St. Josephs' 'Cupcakes and Cupsizes' event, which promoted the services offered at St Joseph's Hospital and raised funds for Breast Cancer Care Cymru.....a great event enjoyed by all!'
Our MOH which aims to boost staff health, happiness and social lives won Gold in the Corporate Health Standard, which is run by the Welsh Government, in February this year. As with anything at Admiral, staff benefits are an open conversation and we're always eager for feedback and suggestions for unique ways to improve the health and happiness of our staff. After all, people who enjoy what they do, do it better.