What our newly appointed Senior Analyst has to say about working at Admiral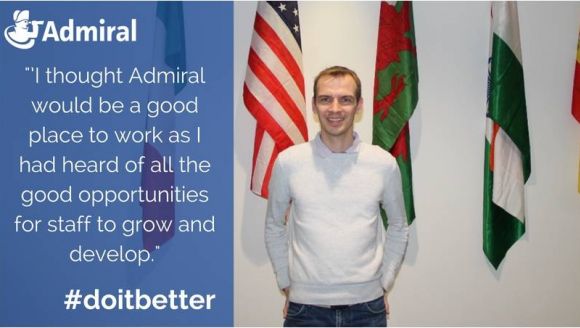 Chris, who has a Physics Degree from Warwick University, felt that after 8 years in his previous company, he was ready for a change.
''I thought Admiral would be a good place to work as I had heard of all the good opportunities for staff to grow and develop. The fact that it was a FTSE 100 company close to where I lived also swayed me.
''Having joined Admiral as an Analyst, two years later I have secured the position as Senior Analyst. My responsibilities now include a team of five - I provide advice on their projects as well as prioritising their workload.''
''We take requests from all over the business to investigate certain business issues, it is then our job to work with them to find that data and make sure it delivers exactly what they want to help them form business decisions.
''The team is going through bit of transition period at the moment, which has meant lots of opportunities to learn about other parts of the business and the newer products that are being developed, which has been great.''
We asked Chris how Admiral differs to his previous company.
''The culture is completely different here – it is much less corporate and more laid back. People work hard but also have fun!''
Admiral believes people who like what they do, do it better. As part of the culture, showing reward and recognition is a big part of what makes us successful.
If you're interested in joining a company that provides great incentives and plenty of opportunities to progress, take a look at our vacancies here.