Spotlight on Outbound Swansea; a fantastic working environment, envious perks and a hugely supportive team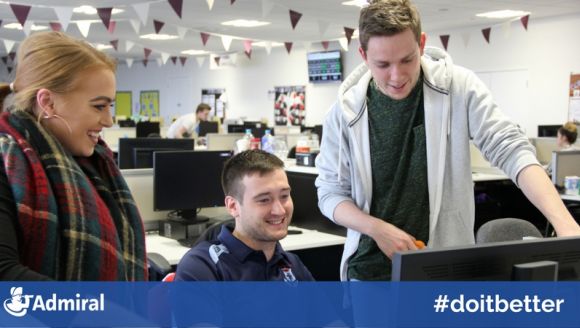 Luke sheds some light on what it's like to work in our Outbound department in Swansea.
''When I first joined in May 2014 as a phone handler, it was a foot in the door of a huge company, the bigger plan was to see what wider opportunities there were in the business as I'd heard how big the company was and all the different departments available.
''Four and a half years on, I'm still here and really enjoying it. ''I'm on the quote follow up team, which involves calling those customers who have taken out a quote with us online and talking to them to see what needs they have and (hopefully) securing their business. On my team we have set shift patterns (10am-7pm), we don't work weekends (overtime is available), we have all the bank holidays off as well as Christmas, which is great!
''Outbound have their own building here in Llansamlet with a strong family feel, everyone's so well connected and tight knit, I've made so many friends – it's such a great place to be. There's a good mix of people of all ages from various backgrounds and we all work together and learn from each other. Every morning I walk through the doors and everyone says hello and when I leave for the day, everyone says goodnight and wishes me a nice evening – it's the little things that make a huge difference.
''You don't need any previous sales experience to join Outbound, as all training is provided when you join. There's also some fantastic perks, you've got the potential to earn an extra £1,600 per month on top of your basic pay and star shares, as well as growth and recognition.
''Here in Outbound we have our own dedicated Top 10 committee who organise 4/5 work events each year such as our annual sports day, quiz nights, Special General Meeting which was in the Marriott this year with a 3 course meal, awards and entertainment as well as our Christmas party. They also organise floor competitions for everyone within the department with some great prizes to be won!''
See out latest Outbound vacancies here.