We met with Jonathan from the Claims department and here's what he had to say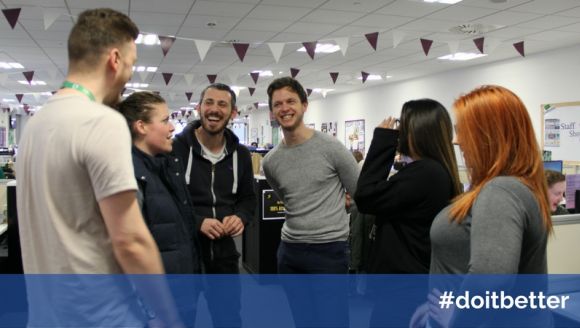 During the first 14-months of starting in our Claims department, Jonathan had the opportunity to experience a number of specialised areas, building his skill set and experience immensely. Jonathan began as a Teleclaims handler, and then moved to First Response Outbound (FROB), before building the experience to handle larger claims on a Specialist Trial team (STT).
In 2014, Jonathan was seconded to BDE Law, a specialist Road Traffic Accident claims firm, owned jointly by Admiral Group and Cordner Lewis Solicitors, where he continued to build his claims knowledge. This role saw Jonathan take control of the other side to claims; making claims against insurers on behalf of Admiral policy holders who have either been injured, or have suffered losses as a result of a non-fault accident.
''The reason I went to BDE Law was to gain more experience and to see if I enjoyed being on that side of the fence. I'm not sure why but I enjoy defending claims and trying to reduce liability than trying to establish a claim against another party.''
After Jonathan's time at BDE Law, he moved back to the STT team temporarily before being placed in Bodily Injury (BI).
''Half of my team moved into BI so that we could deal with potentially larger injuries than we dealt with previously. In FROB we dealt with aggravation of pre-existing conditions or injuries that were slightly more than whiplash, whereas in BI we dealt with injuries that could develop into larger claims such as fractures and head injuries.''
In 2017, Jonathan was promoted to Acting Senior and Negotiator.
''As Negotiator I have responsibility of higher sanctions; I'm able to make offers to settle claims at a higher amount rather than having to refer it to a manager. The acting senior part of my role involves reviewing my team's files, authorising sanctions, providing feedback, support and training, as well as helping the manager with the general day-to-day running of the team. Hopefully within 3-5 years I'll be a fully fledged Senior working on becoming a Manager in the department.
''I love my role, I've always enjoyed being in the Claims department, especially the negotiating aspect that is required – also knowing that my job is stable is a massive benefit. There are also some great company benefits and perks on offer.''
''My advice to others who'd like to move up the ladder in any role would be to find something you enjoy doing and eventually recognition and career progression will come of it.''
Take a look at some of the claims roles that we have on offer.