Congratulations to our 2016 grads!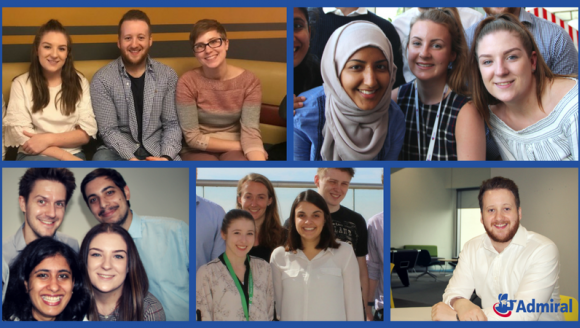 In 2016, thirteen grads from a variety of backgrounds joined our graduate programme. Four of them joined in February (our first ever February intake!) and the rest joined in September. Whilst on the programme, they got involved in a vast range of projects and visited departments such as Claims, New Products and Risk. Ten of them have now secured permanent positions across the business. Well done all!
Have a read to find out where the grad programme could take you:
Nicci, Psychology graduate, Feb 2016 intake
Nicci is now working as a Digital Marketing Assistant at Confused.com
Nicci had her final placement at Confused.com working in Marketing within the Display team. This involved managing the programmatic buying of online ad space, as well as designing new banner ads, creating new campaigns, and reporting on campaign success. Nicci enjoyed this role as it allowed her to use both creative and analytical skills, whilst also expanding her knowledge in marketing, strategic planning and budgeting. In March last year Nicci was made a permanent member of staff on the Display team, and loves being part of such an innovative and fast paced area of marketing.
Lawrence, History graduate, Feb 2016 intake
Lawrence is now a Customer Insight Executive in the Customer Contact Strategy Department
Lawrence is now working in one of the smallest departments within the company, where he is collecting, reviewing and analysing customer feedback to better understand the wants, needs, positives and negatives of the company from the customer's perspective. This information is presented monthly at the cross-functional Customer Insight meeting. In addition Lawrence aids in the management of our Speech Analytics platform, and is developing a Customer Journey map so we can better understand our customer's interactions with the business.
Abi, Experimental Psychology graduate, Sep 2016 intake
Abi is now working as a Customer Insight Executive at Confused.com
Abi spent her first placement in Claims, working on the new transformation programme. Her role was to launch the programme as the communications lead, which involved the organisation of a series of events, as well as implementing a new internal branding campaign.
For her second placement, Abi worked as an insights assistant and researcher within Confused.com's Marketing department. As part of this role, Abi conducted research that helped shape new propositions and develop new product features. Abi impressed in both these roles and was offered a permanent position at Confused.com last October.
Aqeelah, Accounting and Finance graduate, Sep 2016 intake
Aqeelah is now working as a Business Analyst in IT
Aqeelah started her first grad placement in the Finance department as an Assistant Project Accountant. She then moved to Claims for her second placement as a Project Manager. Finally, she worked as a Product Assistant/Quality Assurance Executive in Core Telematics.
After the graduate programme, Aqeelah applied for the IT Business Analyst role and is currently working on the IT Information Security Programme.
Ben, History graduate, Sep 2016 intake
Ben is now working as a Project Manager in the Transformation project team within Claims
The team Ben is working in is dedicated to making positive changes across the Claims department. Ben's first project was a research piece looking at what our customers want and expect from us when making a claim and identifying opportunities of how Admiral can build upon the great customer service which we already provide. Following on from this project, Ben is working on the delivery of multi-channel customer communication methods to provide our customers with a choice of modern and digital ways to interact with us.
Harriet, Law graduate, Sep 2016 intake
Harriet is now working as a Project Manager at Admiral Law.
Harriet's second placement was spent working as a project manager for one of our ABS's (Admiral Law). As part of her role, Harriet conducted research to profile competitors, propose a strategy to improve the company's marketing expenditure and develop a business plan to introduce new legal products. Harriet has thoroughly enjoyed her experience at Admiral Law, the role has given Harriet a 'behind the scenes' understanding of how a law firm operates. Harriet has impressed Admiral Law and was offered a permanent position where she now works full time as a project manager.
Stavros, Finance and Economics graduate, Sep 2016 intake
Stavros is now working as a Group Risk Executive in the Enterprise Risk team
Stavros spent his first 6 months of the graduate programme with First Car Quote (FCQ), analysing data, creating MI packs and partook in the official launch of FCQ. He then moved to the Enterprise Risk Management team.
Stavros now is working in Enterprise Risk Management, assisting with the management of risks across the group.
Imogen, Geography graduate, Feb 2016 intake
Imogen is now working as a Household Product Manager within the Household team
If you're keen to join us on the grad programme, applications will open in September for a start date in either February or September 2019.