Our 2017 Grads smash their target and raise over £15,000 for The Wallich Charity!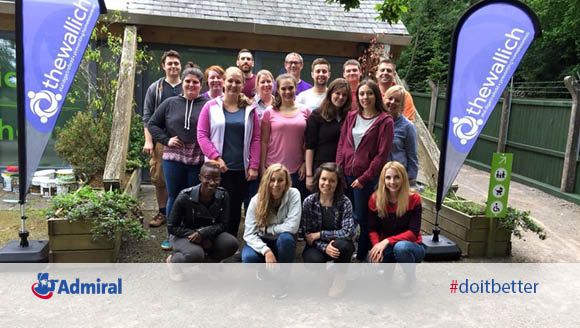 After joining the Graduate Programme in September 2017, our grads were all keen to get involved in charity work, encouraged as part of their role. They chose to sponsor The Wallich; a charity that strives to prevent homelessness and provide support to those experiencing homelessness across Wales.
Since joining the company, we have seen our grads organise several fantastic fundraising events in aid of the Wallich including a Christmas candy cane gram, a guess the number of sweets in the jar event, a bake sale, a St. David's Day raffle and a charity quiz night.
In total, they have raised a whopping £15,634.73, absolutely smashing their original target of £10,000!
Before bringing their fundraising activities to an end, the grads offered them to help the Wallich prepare the foundations of a garden that St. Fagan's had given them.
Sophie, chief organiser on behalf of the grads said ''Our involvement has been hugely beneficial to the Wallich as the garden will provide their service users with the opportunity to learn about Welsh culture by visiting the museum, learning new skills and meeting new people. The Wallich also aim to use the indoor space at the garden to deliver accredited qualifications for those attending the garden and putting what they have learned into practice.''
To highlight the impact of the grads' charity work, they were recently invited to attend an event organised by The Wallich where they launched five new homelessness outreach vehicles – the 'Street Fleet'. The Street Fleet will go out daily across Wales to those sleeping rough to offer provisions, support and advice. They can take people to The Wallich's specialist centres to shower, use a washing machine and meet with staff in the hope of securing accommodation and further support. The vehicles can help keep people off the streets, by moving people and their possessions into hostels or their own homes. They can also take residents to training, education and work placements or on life-changing trips in an effort to break continuous cycles of homelessness. 
''We were lucky enough to learn more about The Wallich's mobile working, which supports people who are rough sleeping, and we had the chance to meet the teams working with people who experience homelessness every day. It was particularly rewarding for us to see how the money that we fundraised contributed to the purchase of these new vehicles.
All six vehicles in the Street Fleet have been named by staff in memory of those special to The Wallich:
Cardiff vehicle – Jeff
Swansea vehicle – Shelia May
Newport vehicle – Vladimir
Bridgend vehicle – Norman
Wrexham vehicle – Ziggy
The Welfare Vehicle – Monty
Welsh Government Housing and Regeneration Minister, Rebecca Evans AM, said "I recently joined The Wallich intervention team on a breakfast run in Swansea and was really impressed at the range of services available and the team providing them. I found it really valuable to speak to the people who receive these services and listen to their stories, as well as to hear from the people who are helping to get them off the streets. This new fleet of vehicles can ensure that support is provided more quickly, and to more people."
Our fundraising also means that Admiral is one of The Wallich's top 5 corporate supporters which is a fantastic achievement in such a short space of time. We'd therefore like to say a massive thank you to our grads who have made such an impact to the Wallich and to all of the staff members across the Cardiff, Newport and Swansea offices who have generously donated towards this cause – we would not have been able to raise this money without your support!
If you would like to find out more about the charity, please have a look at 'The Wallich' website.