We caught up with our first ever Business Development Executive, Fiona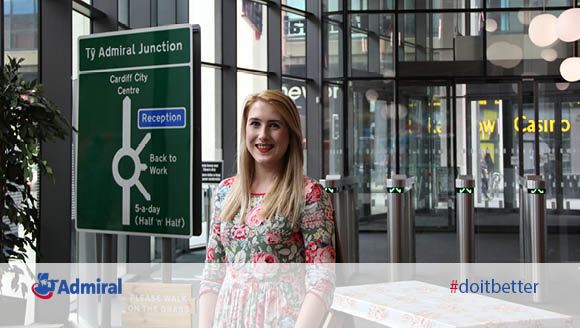 While at Cardiff University Fiona made the most of a new programme they were offering whereby during the 2nd year and 2nd term, students could go and do a local internship.
This is where Fiona's successful Admiral Career began.
Fiona's first internship project was within People Services working with Ceri, head of PS (People Services), and involved completing a welfare review of our employee schemes and benefits. Fiona made valuable cost saving benefits, even managing to save £1,000 a month from a review of our Buy a Book Scheme alone!
She then went on to work with two senior managers researching various lending products, including our now very successful loans product.
''The summer internship at Admiral lasted longer than the initial 4 months. The projects I was getting involved in, and the exposure to senior management was such an incredible experience. As an intern I had exposure to David Stevens (the CEO) and got our loans product to the point of trial.''
Before heading back to university for her final year, Fiona was offered a job as Admiral's first ever Business Development Executive.
"As an intern I had exposure to strategic projects which I don't think I would have been allowed to become involved in had I joined another grad scheme; from speaking with my fellow grads this was quite a unique experience."
When Fiona returned to Admiral after graduating, a senior manager immediately asked her to get involved in an assessment of outsourcing options for our French operations, so she spend 5 weeks in the French office, as well as in Romania completing company assessments.
Back in the Cardiff head office, Fiona joined the Claims department working on the Procurement team. Here she made use of all the skills she gained from her French office experience and led on a tender process for our total loss portal selecting the right company to partner with for a new total loss benefit for our customers.
Fiona then joined the Customer Contact Strategy team and got involved in the early stages of redesigning our customer portal, which saw Fiona learn some unique and valuable IT skills.
''I had no IT background whatsoever, so it was great to get involved in this project and understand the workings behind our IT department. It was also good exposure to working in an agile way, doing scrums etc.''
Fiona also recently completed a 6-month placement in our price comparison office in the USA last summer, adding to her international experience.
"When I was at University in all honesty I would never have thought of Admiral as a career option. Having lived in Cardiff my whole life I knew Admiral as a great option for call centre jobs but had no real appreciation of the international scale of the operation and diverse nature of business support roles available. Completing my internship really opened my eyes as to the opportunity right on my doorstep and the challenging nature of the role compelled me to return after graduating; that was three years ago now and I've not looked back!"