Bethan, one of our 2018 Graduates shares her experience of the Grad scheme so far and the skills she's gained along the way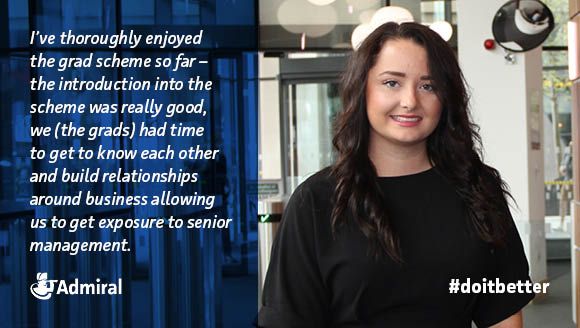 We recently caught up with Beth who joined our core graduate intake in February 2018, to hear more about her experience of the scheme so far.
''Myself and 10 other grads began the first 5 weeks in a classroom environment completing courses on topics such as, leadership and Myers Briggs, core competencies, team building etc. with people from all around the business coming to speak to us and tell us about the area they worked in. This was useful as it gave us a high-level view of the Admiral Group. It differed from university as the sessions were interactive and involved lots of team building. We also had a session on public speaking which was useful and not like anything I had done at university.
''We then completed two intense weeks of Customer Service training where we sat in with different areas such as, outbound, webchat and renewals, learning about the systems and all the different queries our customers could have. We were able to listen in to handlers calls before spending three days on the phones putting what we'd learnt into action.
''The entire experience was very useful, not only was it a chance to brush up on our customer service skills, but we were able to experience first-hand what is at the heart of the business, the customer. It's a tough job being a Customer Service Handler, but it was great to see the level of service we provide to our customers.''
After the couple of weeks with Customer Services, the grad team were put into groups and tasked with working on a real business problem for a period of time.
''We had to meet with people from all over the business to help solve a real-life business problem and at the end of the week, we had to present our ideas to Senior Managers before we were treated to a nice afternoon out for all our hard work.
''This was great experience and a great way to be introduced to the kind of project work we'd be tasked with on our grad placements.''
Beth is now on her first placement as an Ecommerce Executive on the Product and Digital team in the Loans department.
''My role is mainly trying to optimise the customer web journey for car finance and loans, it involves a lot of testing and tweaking to make sure we are continually improving the customers online experience. My two main projects on the team have been to launch web chat and Reevoo for car finance. Both have now been launched but there is still a need to maintain them, which is also part of my current role.
''My placement on the Loans team has been extended as there is still lots to do and learn with it still being a very new department to the company. I'm really enjoying it and am growing so much into the role – it's been great to be a part of the early stages of the loans department, being able to make my mark and help to shape it.
''I've thoroughly enjoyed the grad scheme so far – the introduction into the scheme was really good, we had time to get to know each other and build relationships around business allowing us to get exposure to senior management. The support has also been great with lots of mentoring and help from senior managers.''
Applications for our 2019 graduate programme will be open from 3rd September–4th November, so make sure to get your application in by then and you could be starting with us in either February or September 2019!