"It was like having my life unravelled" Admiral trainer helps hundreds of staff understand Dyslexia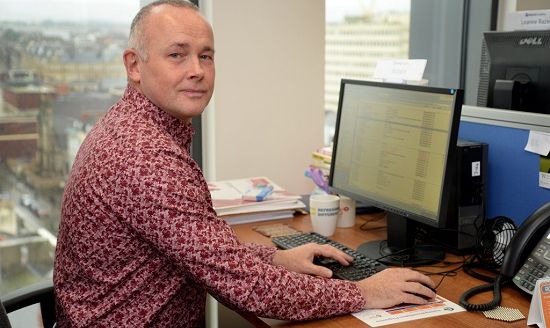 A leadership and management trainer at Admiral who was diagnosed with Dyslexia at the age of 44 has helped almost 200 of our staff to correctly identify the condition.
David Steer (pictured above) is Admiral's Institute of Leadership and Management (ILM) Centre Manager and received his diagnosis during a one to one session in 2010.
David said: "It was like having my life unravelled, I wouldn't say it has hindered my life but there are things that have happened and it has made a big difference."
Following his diagnosis, the ILM Centre Manager decided to launch a workshop in Admiral aimed at understanding Dylsexia and correctly identifying the condition.
According to the British Dyslexia Association 10% of Britain's population are dyslexic with 4% being severely affected by the condition.
David's workshop is attended by managers and people who are Dyslexic themselves.
It is not a diagnostic workshop but rather a relaxed atmosphere which David said makes for a more fulfilling experience.
The 'Understanding Dyslexia' workshop now forms a part of the portfolio of our internal training academy and is delivered with growing regularity.
Almost 200 staff have now been trained through the workshop to correctly identify Dyslexia.