MBA Gareth Rees: Head of Claims Telematics & Co-sponsor of Technologies and Data Transformation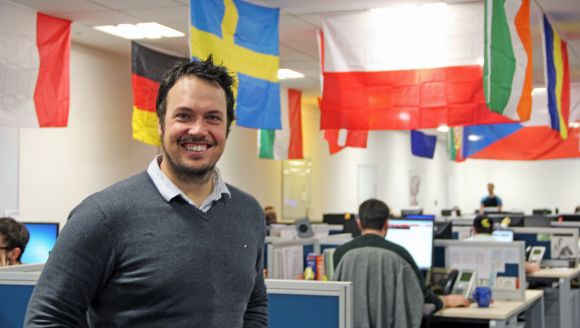 Gareth Rees joined Admiral in October 2014 as an International Pricing Manager, while he was still studying towards his MBA qualification from Bath University.
First of all, your title – what exactly is the Co-sponsor of Technologies and Data Transformation?
Currently, there is a transformation project underway throughout the whole claims department (2,000 staff members) and Lindsay Crennell is heading this up. Within this transformation project there are four streams, one of which is "Technologies and Data Transformation". As sponsor of the stream, my role is to support the project manager to ensure he has everything he needs to make it happen. I'm also a mentor and champion for him. There are two sponsors for this stream, so I am a co-sponsor.
Tell us about the awards you won at the University of Bath
I won two awards during my MBA studies at the University of Bath.
The first one was the Flores New Prize for Best Overall Student 2016, which was awarded to me for having the highest marks among all the executive and full-time MBA students.
Secondly I was awarded the Property Solutions Joint Winner of Best Project Result award – quite a mouthful! My project was about business model innovation with a focus on Telematics at Admiral.
So what inspired you to come and work for Admiral?
I had heard of Admiral and knew they were based in South Wales, but I wasn't particularly interested in working in insurance so hadn't looked into them any further.
But while I was at Bath, Admiral's then COO (now CEO) David Stevens came to give a guest lecture and I decided to go. I was very impressed with the speech and went up to speak to David afterwards. Things developed from there really and I was invited in to interview a few months later, which led to another interview and finally to a job as International Pricing Manager.
Now that you've worked here for a few years, what would you say to people hesitant about working in insurance?
When people think of insurance they think of generating premiums and pestering people to sell stuff, but there's a lot more to it.
Whether insurance, pharmaceuticals, banking, or any other industry, the people you work with and the diversity of projects is important, rather than the industry itself.
I didn't see myself working in insurance either, but David's speech was inspirational and one of the great benefits of working for Admiral is the access to very senior managers from the start. There is also the option to work internationally, which is great.
How did your role as International Pricing Manager evolve?
As International Pricing Manager I had several side projects, which made the role interesting and varied. One of these was EasyCar Club, with whom I built a relationship to eventually offer Admiral Insurance to EasyCar Club members. I was able to develop this product with the direct support of David (COO at the time). This illustrates the great culture and working environment at Admiral – I was able to pick up a random project and run with it. I was given the autonomy and trust to do this, which I'm not sure you'd get in any other organization.
Over time, my role started developing into more of a BDM (Business Development Manager) role and eventually I formally moved across to the BDM team.
Tell us about your first few months as a BDM
As a BDM you are basically an internal consultant, so I had a great variety of projects. It was quite a natural transition from International Pricing Manager to BDM, as I was already working on EasyCar.
I then became involved in the new Learner Driver product, partly because of my experience with EasyCar. I also did an operational project in our Outbound (Sales) department (300 staff members) and then moved across to Claims.
Both as a BDM and as an IPM you can really change and improve things and Admiral really values that fresh perspective and open-mindedness that new MBAs bring.
What does your role in Claims involve?
I've now been Head of Telematics Claims for 9 months and this role requires a lot of cross-departmental work, which is great as I can continue to build on my network and I am involved with people across the business.
Some of the departments I work with closely are Telematics, New Motor Products - which involves setting up new claims processes for each new product, like Learner Driver and EasyCar, and also Recruitment, as we are hoping to set up a graduate programme for Claims.
What advice would you give a new BDM?
As a BDM you are not recruited to do a set role – you can't come in with the idea that one day you are going to be the Head of HR for example. That simply doesn't work here. You need to be open to doing a variety of projects and roles and for things to change from one day to the next.
What do you think about living and working in Cardiff?
Cardiff is a capital that's growing and our headquarters are here, which means if you need to see anyone, for example the CEO, COO, or CFO, they are all here, not hiding in a different office somewhere. We also have the great benefit of having international sites, including Paris, Madrid and Rome, which gives you the opportunity to do projects abroad as well.
This year Cardiff is hosting the UEFA Champions League final, which is very exciting as well!
You can watch a video of Gareth talking about the Bath MBA and his career at Admiral below: