The people behind the promotions - Josh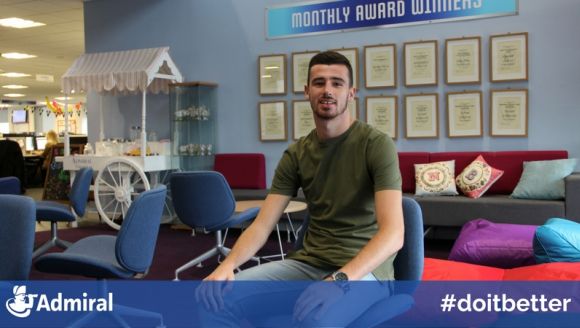 ''I didn't know how long I'd stay in Admiral'' said Josh, a newly promoted Team Senior within the Inbound Sales team.
''After the training, I just knew, this has the potential to be a job for life! I had the option of staying on the phone to earn some big money in incentives, or I could think about how I wanted to progress. It really depends on who you are and what motivates you.
''I had a chat with my manager to talk through what I wanted, I decided I would get my head down and look to progress.''
Josh is now one week in to his new role as a Team Senior. ''We're a team of 14, there's definitely a lot going on, you have to be so organised to manage the day to day role. I'm there to help manage the people on the team, their performance and support the planning for the team and help the rest of the department.''
From being unsure on what to expect to feeling confident that he now has a job for life, we asked what is it that Josh loves about Admiral?
''The culture sets Admiral apart from anywhere else I've worked. Everyone is fun and outgoing. I have never before been shown such consistent appreciation for my hard work. I love the perks we get; I enjoy the free gym and discounts you get in so many places. The shares are so good too, when I started I didn't realise you get paid cash dividends on them every 6 months from when you start. Adding this to the incentives and overtime means you can earn quite a lot of money.''
Admiral believes people who like what they do, do it better. As part of the culture, showing reward and recognition is a big part of what makes them successful.
If you would like to find out more about the employee perks at Admiral, including the free gym, casual dress code and free share scheme, click here.
Are you looking to earn great incentives and climb the career ladder? Click here for the latest jobs in New Business Sales.