Interns Away Day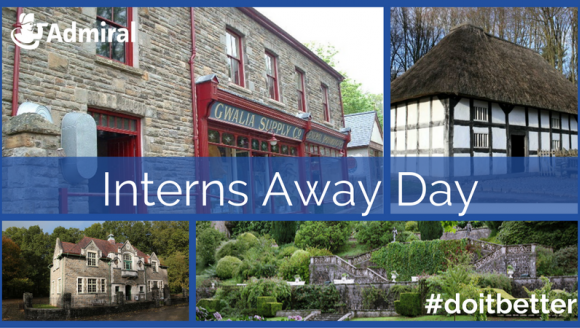 One by one the 2017 undergraduate summer interns, who have been at Admiral since June, filed in to the lobby of Ty Admiral. With lunches packed and morale high, we set off to catch the morning bus to St. Fagans National Museum of History for a day of exploration and fun.
Our group was split into four teams to face our first challenge – the scavenger hunt! Each team scoured the park for answers, and along the way we soaked up Welsh history. From finding the site's oldest building to uncovering the ingredients in traditional bara brith bread, our diverse group realized what makes Wales a unique place to live and work. Other highlights of the morning included watching a clog-maker and blacksmith at work, and hanging out with the many farm animals that roam around the grounds.
After the winners were announced, the group settled down next to a gorgeous stream to enjoy lunch. Quite the backdrop!
With everyone refuelled, it was time for some team building. The session started with a massive game of Ninja, in which participants took turns trying to eliminate others by hitting their hand. After developing our martial art skills, we tried our best to stay still during games of Wax Museum, where participants can only move when the designated curator is not looking. We also got our hearts beating during some entertaining relay races, and an intense game of Steal the Bacon.
Our hunger soon returned, and we took a bus back to Cardiff city centre for the last leg of our day – dinner at Ask Italian. We indulged in cheesy bread, calamari, pasta, and A LOT of pizza. It was the perfect end to a fantastic day.
After all of our plates were clean and the conversations had ended, the 2017 summer interns left the restaurant a more tight-knit and cultured group. A successful away day indeed!