Spotlight on the Inbound Sales department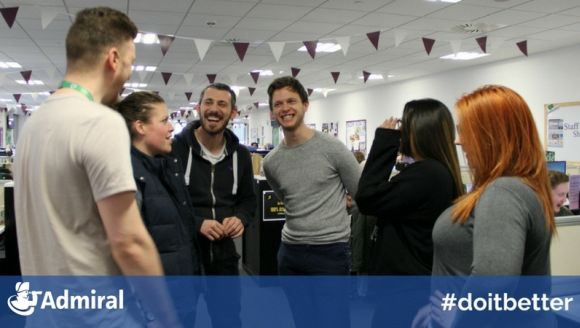 At Admiral we believe that people who like what they do, do it better, which is a key ethos our Inbound Sales department adopt in the running of the department.
Inbound Sales is all about making sure our customer's first experience with us is an excellent one. It's a sales role with a difference - most of our customers will have already sourced an insurance quote from the internet, so callers want to buy the policy!
The Department prides itself on rewarding staff, through monthly awards, as well as great incentive earnings! Our agents earn an average of £280 incentive each month on top of their salary, with potential total earnings up to £1,750 per month!
Developing and promoting existing staff is also a priority, with 100% of promotions from call centre representative to Team Manager and above being internal. In our Cardiff office alone, we have internally promoted ten Seniors, three Team Managers, and one Operations Manager during the past 10 weeks – which speaks volumes about the opportunities available.
Jade Rundle, a Team Manager in our Cardiff Inbound Sales department, started her career at Admiral in 2010. Having joined with a variety of work experience, in both retail and call centres, she loved the unique culture at Admiral. 'Working at Admiral felt like a whole new working experience due to the fun and competitive atmosphere!'
Since joining, Jade has exceeded in her role and progressed through the department. After one year, Jade was promoted to a Senior position, which involved supporting the Team Manager with the daily running of the team. After doing this role for 4-5 years, she felt she was ready to take the next step in her career and was successful in her application to become a Team Manager, and has been responsible in running her own team for the last two years.
Jade's favourite part about her role is the bond she has with her colleagues:
''I love supporting my team and seeing them succeed in their role! I am close to everyone I work with, and enjoy going to work because I really feel like I'm part of something.''
''The opportunities I've had are incredible - I've even had experience working in our overseas offices! I worked in our Canadian office for three months whilst implementing our household insurance, and will also be working in America for three months later this year to support the management team.''
"I've also been on some great away days whilst working at Admiral. One of my favourite days was when we did an obstacle course, but we've also had sports days and barbeques which are great ways to spend some quality time with our teams. We like to get involved in charity work as well, which has resulted in people facing many challenges (such as being waxed) and we use any excuse to dress up!''
"The benefits of working at Admiral are brilliant. My favourite benefits are the free gym membership, free fruit, and the fantastic discounts we receive in local shops and restaurants."
So what do we look for in our Inbound Sales Consultants? We are looking for people who can provide excellent customer service, whilst also having traits of an excellent sales person. It is a competitive environment, so if you are target driven or motivated by money, it could be the perfect role for you!
If you would like to join the ever-growing Inbound Sales department, please complete an online application form.