This Christmas Admiral staff join the shoebox appeal to help the homeless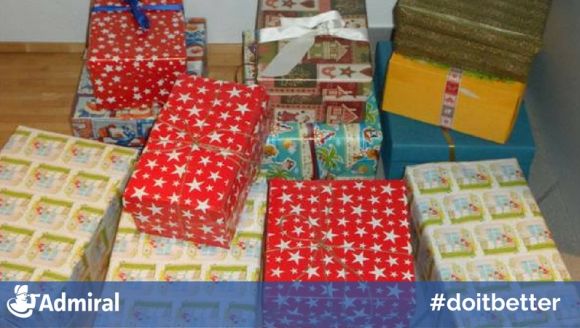 Our dedicated health and wellbeing programme called 'Ministry of Health' (MOH), run voluntarily by staff representatives from across the business, offers staff a wide array of initiatives and services. As well as providing daily fresh fruit, local gym passes and head massages, this year the Ministry of Health are working closely with The Homeless Shoebox Appeal to provide much needed items to the homeless community of South Wales.
Staff in our Swansea office have been asked to fill shoeboxes with much needed items such as toiletries, clothing and food and are dropping them to a collection point where they will be distributed to the homeless.
As Christmas approaches and the weather gets colder, difficult times become even harder for many vulnerable and homeless people across Wales and beyond. Every year homeless people are lonely, hungry and sleeping in the cold. Over the past two years, the incredible Shoebox Appeal has delivered hundreds of boxes from the generous public to gift the homeless during Christmas.
''It's a way that we can give back to our local community and make someone's Christmas special by donating a shoebox – everyone deserves something for Christmas'' commented Rebecca, our Health and Wellbeing Manager.
If you'd like more information, or to get involved, please visit https://www.facebook.com/homelessshoeboxappealsouthwestwales/about/