#WithTheT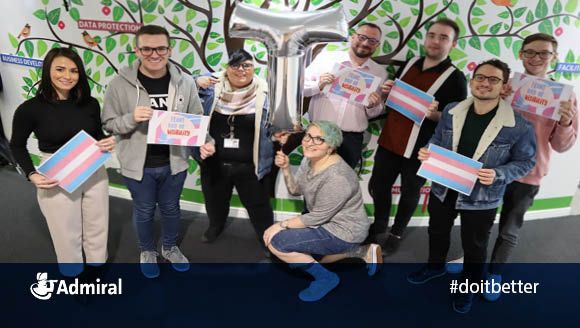 Sunday the 31st of March was Trans Day of Visibility. The day is dedicated to celebrating trans people across the world and raising awareness of the discrimination faced by many trans people.
We're marking the event with the internal intranet site theme in the Trans Pride Flag colours of pink blue and white. Members of our LGBT network are wearing those colours today to show our support to all of our trans colleagues, friends and family. We are proud to stand #WithTheT.
We are committed to providing a safe and comfortable environment for all our employees. The Admiral family is diverse and inclusive which brings great benefits to the business. We believe that people work better when they can be themselves.
Every employee deserves to work in an environment free from discrimination, harassment or victimisation. To help everyone understand our expectations we have introduced a Transgender Policy in the 'Your responsibilities, behaviour and conduct' section of our Big Book.
If you are a manager at Admiral, we also offer a People Solutions session, Gender Identification and Sexuality, to help managers create an inclusive and supportive team environment.
Last month, we hosted Stonewall Cymru's Trans Allies programme at Confused.com. The day aimed to empower attendees to be active and positive allies who work to create more inclusive workplaces and communities for all trans people. Three members of staff joined the programme along with people from organisations and workplaces across Wales. Here's what Shelly and Saeed had to say about the day:
''I found the Trans Allies programme eye-opening and inspiring. It raised awareness to concerns that I would not have given any real thought as it did not impact directly on me. I have experienced homophobia, but it would appear that transphobia is rife and affecting so many individuals in both a social and work environment. The statistics were alarming. Leaving, I felt empowered to challenge people's perception of the trans community and to be wholeheartedly a trans ally.''
''It was amazing to see Admiral supporting the trans community by hosting the Trans Allies programme. The course really dug deep into gender identity and gender expression and helped me identify more with my trans siblings. It was interesting to meet with different organisations to see what they did to support trans employees and it was a good place to share best practice.''
We always encourage feedback, suggestions or questions from staff about how we support our trans colleagues in the workplace. If you have any questions, please contact the Recruitment team on workwithus@admiralgroup.co.uk.